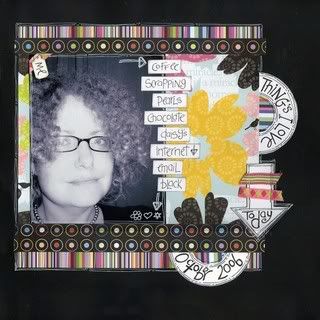 I now its very late in the day but I thought I'd put up a the LO that I gave a class in at Scrap West 2 weeks ago. My Gosh..... what a fantastic turn out! All those wonderful women who supported the first ever West of Ireland scrappy event. Thanks a million girls..
The class was called"Things I love Today" for a Book of Me. One of the ladies at the Crop did a version with each of her kids, wonderful idea, especially since their tastes change from second to second.
My sister went too - she's nutter, i think she is offically hooked. She rang me later in the week to tell me she has done up her craft room to become a scrap room. Yipee!!!